Hase Historic road
(Details version)
The Hase Highway
 The Hase Highway extends for approximately fourteen ri and 17 chō, linking Ise with the Kyōto and Yamato regions. The name of this route derives from the fact that it stretches from Rokken in contemporary Matsuzaka City, Ōsaka Prefecture, over the Aoyama Pass, and through Nabari into Hase. Today, its route roughly parallels National Highway 165 or runs close to the Kintetsu Railway's Ōsaka Line.
In the past, this route was known by various names including the "Aoyama Pass Road," "Aho Pass Road," "Sangū Main Highway," and the "Sangū Northern Highway." At the time of the Jinshin Rebellion (672 AD), Prince Ōama used this route to enter Nabari, and the road was also used by the "Saishu," imperial princesses who served the Kami of Ise in lieu of the emperor, to travel to the Grand Shrine of Ise. During the Asuka period (539-645 AD) and when the capital was located at Fujiwara (694-710), this road became the northern route connecting the Yamato plain with the Grand Shrine of Ise, and even after the capital was moved to Heijō (Nara), it continued to serve as a main artery connecting Nara with Ise.
Following the transfer of the capital to Heian (Kyōto) in 710, the Hase Highway declined for a time because a new imperial government road was constructed to connect Heian to Ise through the Suzuka Pass, and other roads including the Ise Main Highway, where the provincial governor Hatano based himself, were traveled heavily. However, with the rise in popular mass pilgrimage to the Grand Shrine of Ise as well as pilgrimage from Ise to Hasedera Temple in Nara, the Hase Highway's relatively flat course became preferable to the difficult mountain roads of the Ise Main Highway, and the route experienced its greatest prosperity from the mid-Edo (18th century) period through the early Meiji period (late 19th century). During this time, pilgrims to the Grand Shrine of Ise stayed overnight at Hase, then the next evening at the lodging town at Iseji at the foot of the Aoyama Pass (today's Aoyama Town). The following day, pilgrims would stop for lunch at Nihongi (Shiroyama Town), and then take a third night's lodging at Rokken. The trip from the Ōsaka area to Ise was a one-way journey of four to five days.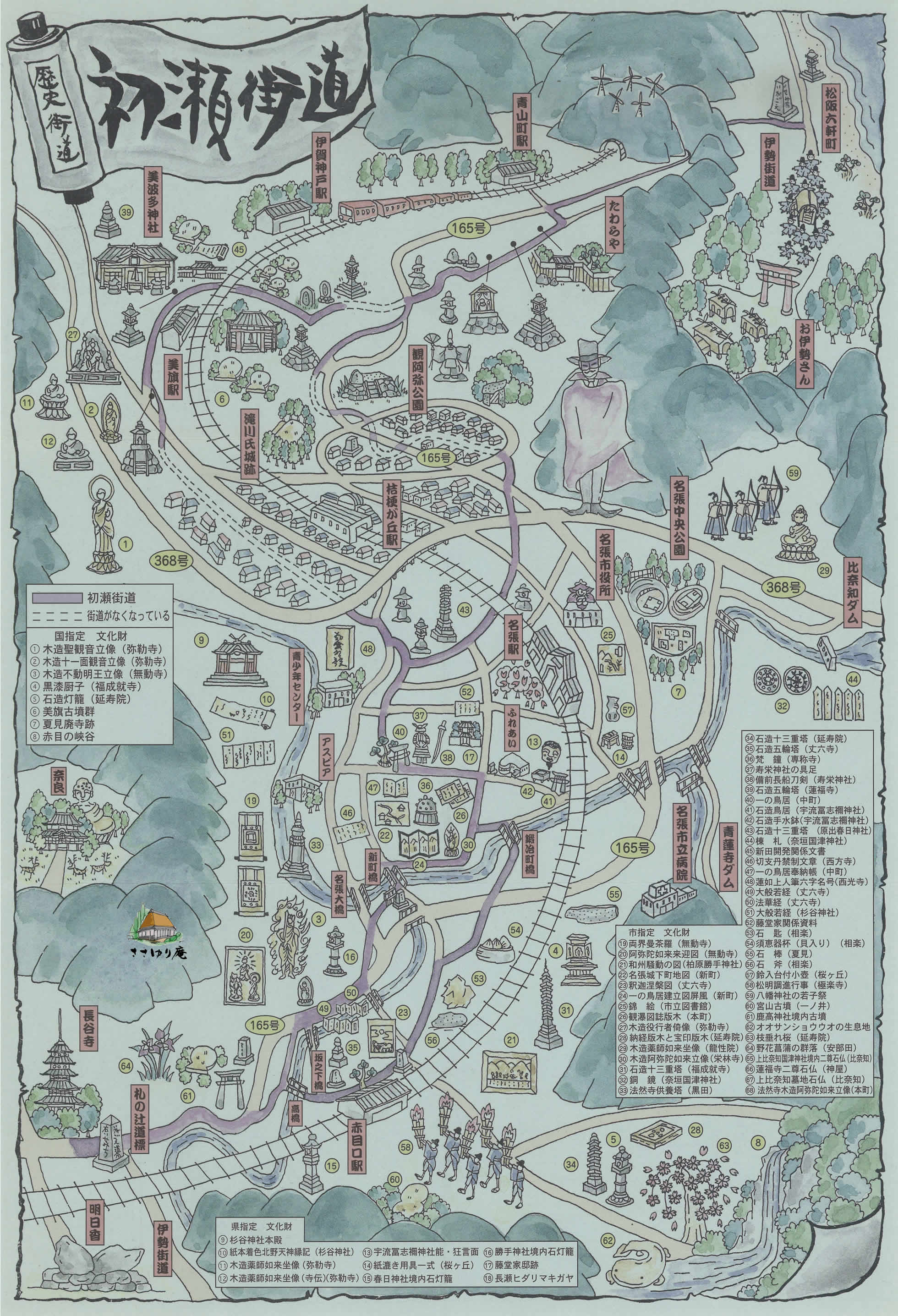 初瀬街道の概要・ルート
(1) 津屋城    
P 4
(2) 小川     
P 6
(3) 宮古     
P 8
(4) 井関     
P10
(5) 大仰     
P12
(6) 二本木    
P14
(7) 中の村    
P16
(8) 垣内宿    
P18
(9) 小峠     
P22
(10)青山峠    
P24
(11)西青山    
P26
(12)伊勢地宿   
P28
(13)阿保宿    
P32
(14)七味峠    
P36
(15)新田     
P38
(16)西原・三軒家 
P40
(17)蔵持     
P42
(18)名張     
P46
(19)丈六     
P52
(20)鹿高     
P58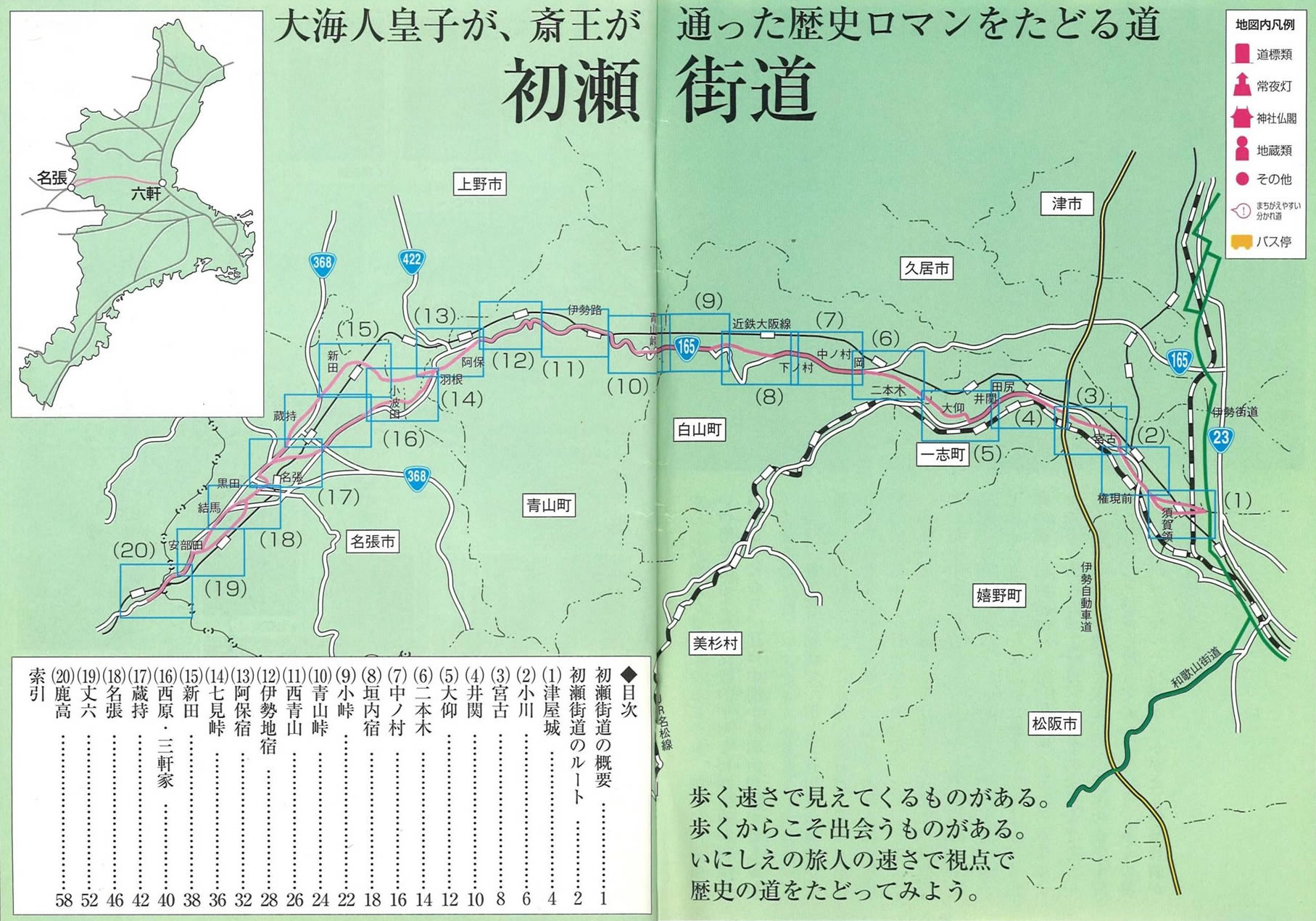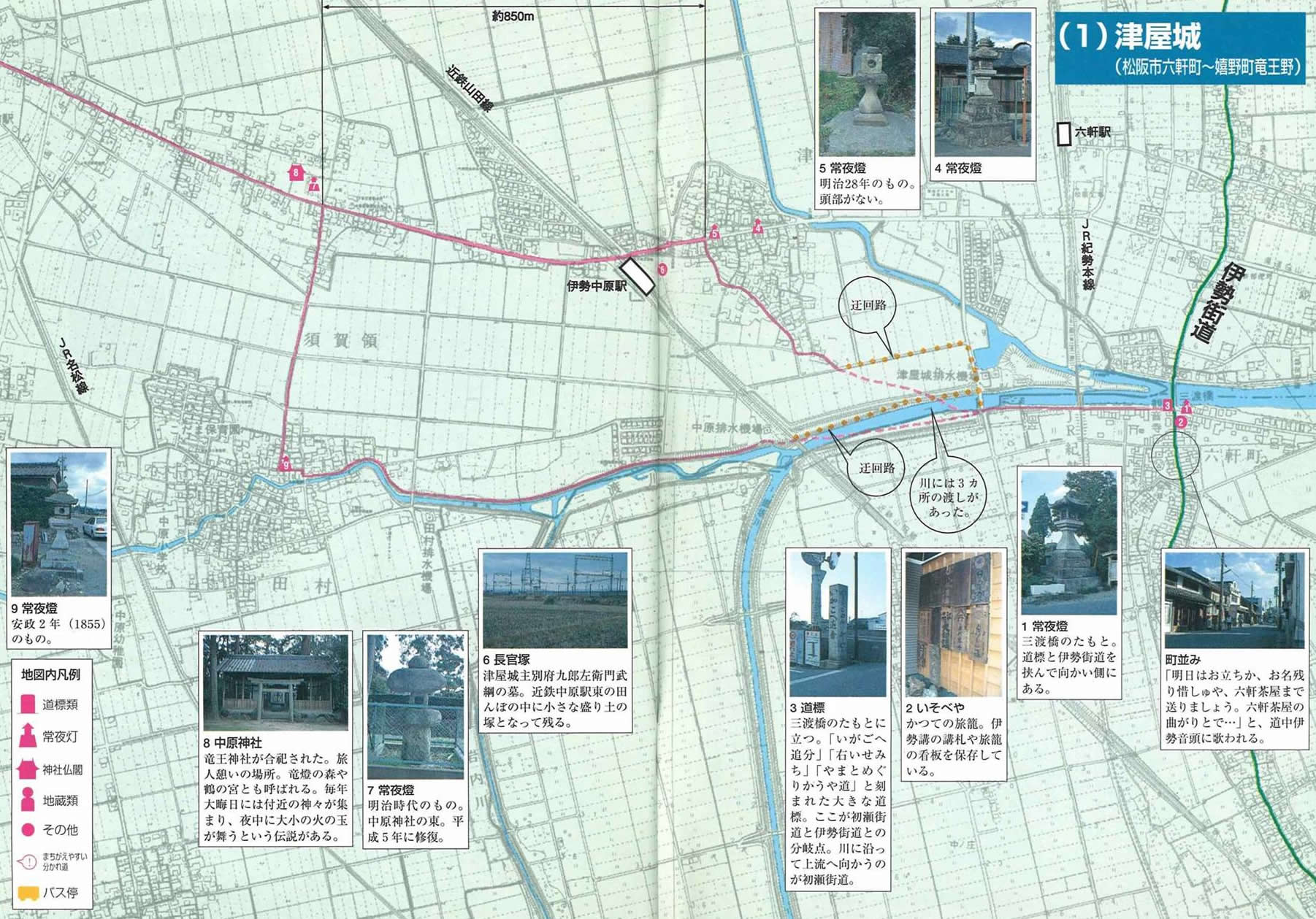 5
4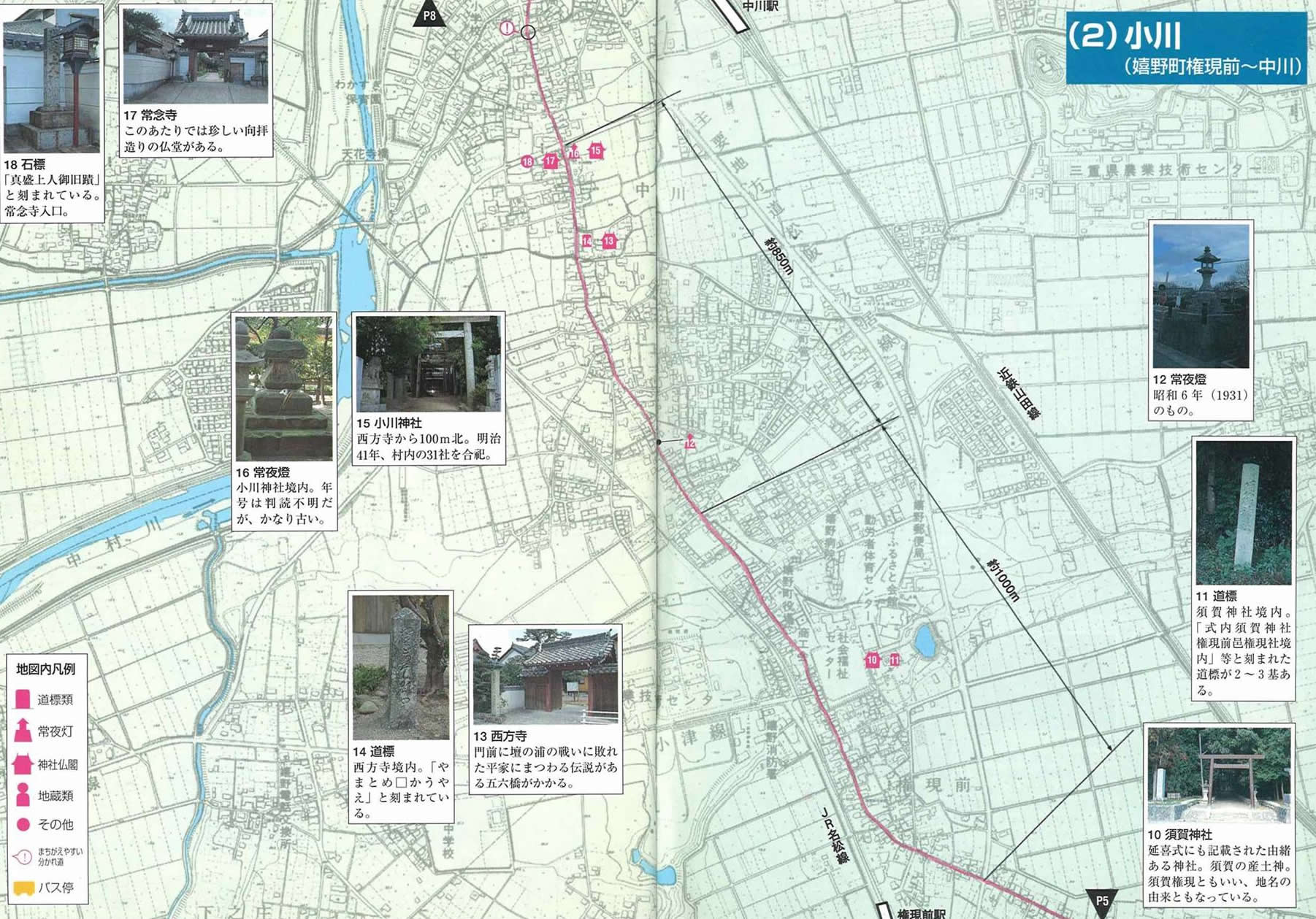 7
6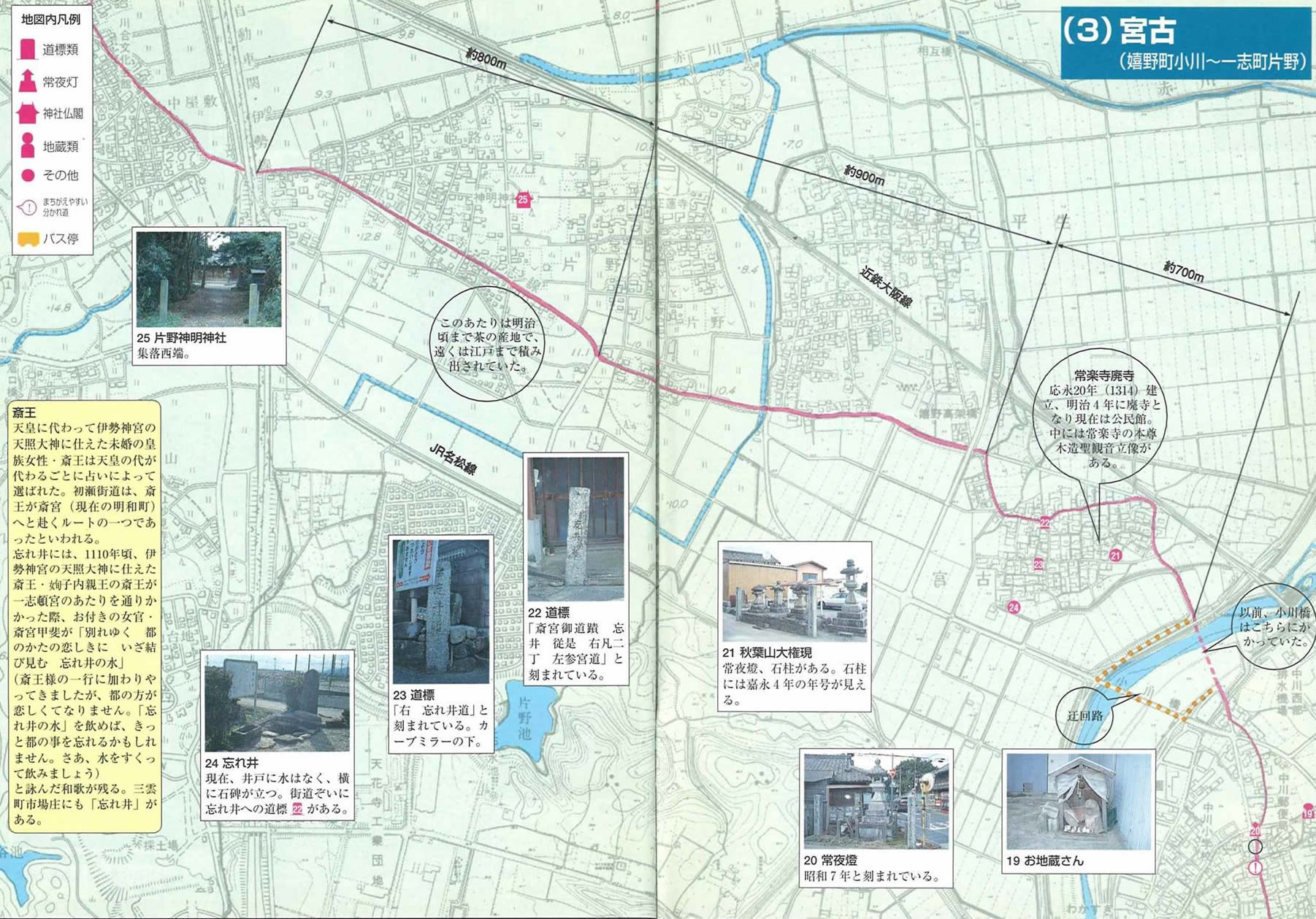 9
8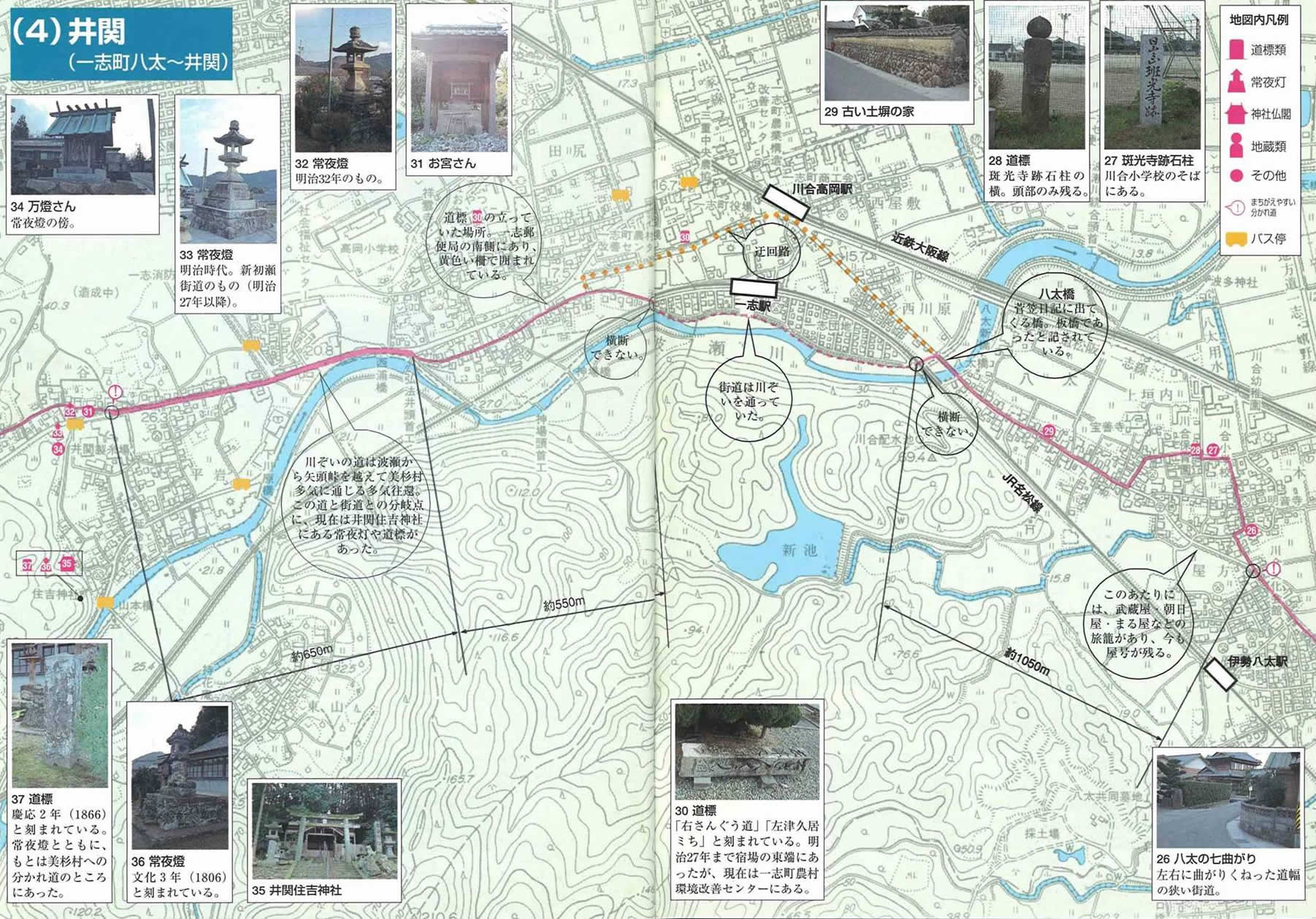 11
10